Hi there.
Welcome to SCOTUS Map. If you've visited before, you may have noticed things look a little different this time around.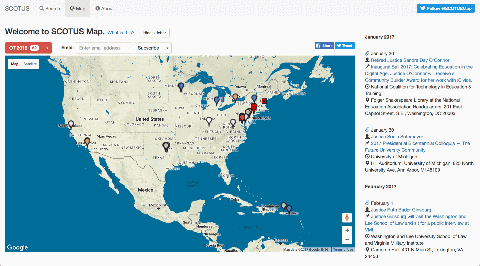 So what's changed?
Well, almost everything. We've been working on this update for over four months, and it's the largest one we've made since launching SCOTUS Map back in July 2014.
We've gone full-screen. We thought the old version of SCOTUS Map had too many other things going on (a top menu bar, a sidebar events list, etc.). The focus should be on the map itself and all the pins representing events. So we got rid of the clutter and made the map full-screen.
SCOTUS Map is now mobile-friendly. Did you ever try checking out SCOTUSMap.com on a mobile device?
It...didn't look good, and it was almost impossible to use: when you clicked on a pin, you had to scroll horizontally just to read the event details, to take one of many examples.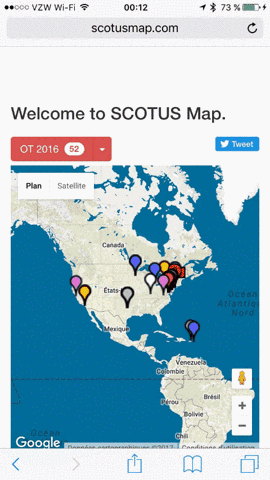 The new SCOTUSMap.com has been optimized for mobile devices. The site is now fully usable across all screens, not just desktop: you can search for events, scroll through the list of results, subscribe to email alerts, and more -- now from any device.
We've amped up the search functionality. Before you could either look at all events in a single term, or all events in all terms -- there was no in-between. Now you can select any combination of terms as well.
You can also filter for events with specific justices. Ever wondered how many events a specific justice participated in, or where they traveled the most? Now you can figure that out a lot more easily, with filters for individual justices or any combination of them. (For example, here are all the events featuring Justices Ginsburg or Kagan in OT 2014 and OT 2015.)
We added a map legend. With events from eight sitting justices, three retired ones, and one deceased one, the map can get pretty colorful with all those pins. We've added a "Legend" tab to the main box so you always know who's who.
We've cleaned up shop. Over the course of overhauling the site, we managed to fix up a lot of bugs and other issues that had been accumulating over time. For example, a glitch affecting the daily and weekly alert emails has been fixed. Finally, you won't receive two consecutive daily email alerts for the same events.
We've also made a lot of changes in the background: things that might not be immediately obvious but that make a big difference to the user experience. For example, pages should generally load faster and there are fewer server requests happening now when you're scrolling through the map.
There are now dedicated pages for each individual event and justice. Every single event now has its own page (here's one with Justice Samuel Alito next month), with details, registration info, links to recaps and transcripts, and videos (where applicable).
Even better, each justice has a page now too (here, for example, is the page for Justice Clarence Thomas), and each one shows a full listing of every event they've participated in -- including ones where other justices were present too. If you're on a desktop computer you'll also see a sidebar with embedded video clips of their events.
Sharing just got a whole lot easier. Now you can share the main site (SCOTUSMap.com), a specific event page, or an individual justice page on Twitter and Facebook. You can even email an event to a friend or add an upcoming event to your Google Calendar.
It's easier than ever to subscribe to email alerts for new and updated events. With the skinny subscribe bar at the bottom of your screen (on desktop) and the "Info & Subscribe" tab in the main box (on any device), it's now a piece of cake to sign up for emails on a daily or weekly basis to stay up to date on the latest events.
Give us a piece of your mind. It's now a lot easier to leave feedback on the site with our new feedback form. You can select a topic from the dropdown list and let us know what you think. (Each event page now has a link for reporting inaccuracies too.) We'll see it right away!
Oh, um...we started a blog. You know, this one. Every now and then we'll post something new: when we've added a feature, hit a milestone, collected feedback, analyzed event stats, or whatever else. Let us know what you'd like to read about!
Thank you for visiting!
Team SCOTUS Map